Fire Chief Juan Bryan 
Help Us, Help You!

 Make sure your house number is visible from the road!

Follow these steps to help prevent a fire in your home!

Change the batteries in your Smoke Detectors every 6 months, we suggest when you "Fall Back" and "Spring Forward" with your clocks.
Plan an Evacuation Route and Practice it!

Have Alternative Paths in your Evacuation Route.

Teach Children to STOP, DROP and ROLL.

Never Overload Extension Cord

Never leave something cooking unattended

Make sure nothing is within a 3 foot radius of any space heater or fire source.
Have at least 1 working Fire Extinguisher in your home and make sure everyone knows how to use it.

Replace your air filters frequently

Clean out your Dryers lint trap after every load.

Have your Fireplace and Chimney inspected and cleaned regularly.

Trim Low Lying branches.

Cut down any dead vegetation.

Clean up any trash or debris around your home.

Check to see if there is a Burn Ban in effect before burning anything.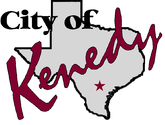 Contact Information
Phone: (830)583-2230
Office: 303 W. Main St.
Kenedy, TX 78119